APR15
Details

Created: Thursday, 09 April 2015 13:53
Written by Nick Barrable
Welcome to CompassSport Magazine
The UK's Orienteering Magazine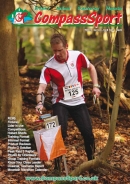 The APR15 issue is well underway and will go to the printers on the 16th April. It contains untold delight and excitement. You WONT want to miss it! WOC 2015 preview by Dave Nevell, O Publicity and TVOC success, the JK, British Night Champs, Stockholm Indoor Cup, GRAMPs New Year event for Informal Event Format section, and a new central pull out section called "GBR Team goes Topless"*.
(*This last section maybe a tiny lie ;-))
Make sure your Subscription is up to date or order an individual copy from the "Individual Copies" link on the left.
Not sure about subscribing to the mag? Mail me for a free back issue at Nick -At- CompassSport.co.uk and see this amazing magazine which is read by so many.